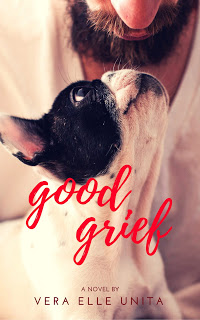 Review to "Good Grief"
Here are some product details:
Title: Good Grief
Author: Vera Elle Unita
Publisher: Hippomonte Publishing
Price: eBook 2,99 € / Paperback 10,99 €
Publication date: May 26, 2017
Number of pages: 200
Review
Jasmine Frost is very exited for her first day at her new job. How could she knew, what happened at work? The arrogant billionaire Cole Ward wants her to lead the renovations in his mansion. Jasmine has to move in with Cole to oversee the renovations. But the mansion needs definetly more than a little makeover. That means, Jasmine ist stuck with Cole for more than a few days. He is really curious, doesn't like her little puppy and is very gruff. But there is something between them, that no one can explain. And Cole has secrets about his past. Can Jasmine find out what happened to him? And does she really want to know?
The cover shows Chester, Jasemine's cute little French bulldog. Chester looks up at a men with so much faith and love in his eyes. I really love this little puppy and he stole my heart from the first moment, I saw the heart-warming cover.
Jasmine is a wonderful, colorful and cheerful woman with a big heart. She also is confident, creative, and powerful. At the beginning, she really knows what she wants. Bit by bit, she seems a little bit doubtful because of her feelings. But Jasmine wouldn't be herself, if she doesn't find a way out.
Cole at first sight seems very cold and arrogant. But if we take a deep look into his eyes and his soul, he seems to be broken and not so unloving anymore. In his past, there where difficult and sad happenings, therefore his behavior and his words are understandable for me.
"Good Grief" is a gorgeous, extraordinary and breathtaking story, that touched my heart with every page. I felt every tear, every laugh and every word. It moved me to tears and fully convinced me.
5 Stars