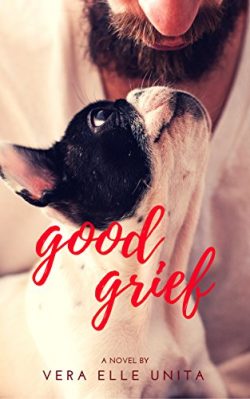 [Review] to "Good Grief"
Title: Good Grief
Author: Vera Elle Unita
Publisher: Hippomonte Publishing e.K.
Price: 2,99 € E-Book
Publication Date: 26. Mai 2017
Print Length: 312 Pages
Short Description:
Jasmine Frost had imagined the first day at her new job quite
differently. How on earth could she have known the arrogant billionaire
Cole Ward would insist on her leading the renovations of his mansion?
To oversee the renovations, Jasmine moves in with Cole. Turns out, the
mansion needs more than a little makeover, and she is stuck with that
growly bear of a man for weeks. He doesn't even like her French
bulldog—who the hell doesn't like puppies?
Still, they can't withstand the strong attraction between them. The dark look in his eyes
is intriguing and Jasmine can't keep herself from digging into his past.
But what if she doesn't like what she finds?
Cover:
When I first saw the cover, I was like "Aw thats so cute, look at the little Frenchie on it!" I love the fact that the little Men is on it. It's simple, but perfect for the Story. You can see the connection between the Man and the Dog.
Protagonists:
There immediately is an attraction between Cole and Jasmine. It's like they know each other for a long time, but they don't exactly know why there feeling this way. Cole has a lot of Pain and Bitterness inside of him. Had he experienced bad things in his past, that he had to build a wall around himself to protect him from feeling anything? He is an strong, protective and caring person.
Jasmin on the other hand is a woman who is very independent, creative and speaks her mind. I really like that she is an animal-loving person. The way she interacts with her smart little Frenchie is just adorable. At her new job most of her colleagues are men and she has to prove herself to them. Even it seems hard to manage at first, she is not a quitter and suprise them all.
My Opinion:
All the Pain and Sorrow the protagonists felt, I felt it too. Coles Numbness is understandable, nobody can judge him for that. This Book is a story full of Loss, Desperation and the Hope, that someday, it gets better. For some readers the relationship between Cole and Jasmin moves fast in a short Time, but soon you'll see that they're very serious and they have their reasons. I really loved the Story. You're looking for an Lovestory who's close to Reality? Then I fully recommend this Book to you. Go on and Buy it, for me it's an Must-Read.
5 Stars