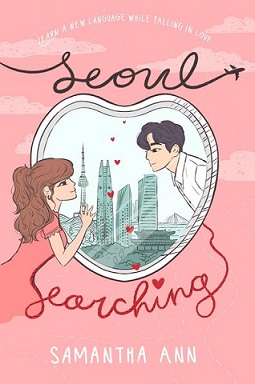 [Rezension] Seoul Searching
Join Maria and Lee Hwan Soo on a crazy rollercoaster of life, language, and most importantly love.
Seoul Searching
Samantha Ann
Selfpublishing
3,50 € E-Book / 14,90 € Paperback
19. Januar 2022
506 Pages
5 Stars
Details:
Maria's best friend is getting married! As Maid of Honor, she comes to find out that the wedding is being held in the fiancé's home country. South Korea.
Flying more than halfway across the world, Maria encounters more than just a culture shock. He goes by the name of…
Lee Hwan Soo. An up-and-coming Korean drama actor and a damn near perfect specimen of man. But just when he gets his big break, his best friend announces his engagement to a woman from America.
Being jaded in love, Hwan Soo, puts off the idea of ever being in female company for longer than a date or two. Until he finds out that his best friend and the bride-to-be need him to 'babysit' the bride's Maid of Honor, Maria.
Keeping her from making major cultural faux pas, preventing her from creating international incidents, and somehow teaching her how to speak an entirely new language in time for their friend's big day…What could possibly go wrong?
First Impression on the Book:
As soon as i opened the first pages, I was hooked on the Playlist. It was easy to read, even though I don´t know much about the Korean Language and English is just my second Language. At the beginning of the Book the author explained a little bit about Hangul so you could try to read it. But dont worry, everything gets explained, if you struggle to read it. I loved the Design at the start of every Chapter.
Characters:
At first i thought of Maria as kind of stiff, but i was interested in why she is like that. After a while it was self-explanatory, because the situation she was in, in an foreign country, must be tough at first. On the other Hand I saw how willing she was, to do her best. She has a good heart, but thinks about herself to low, even though she is a fast learner, if she´s really intrested in something.
Lee Hwan Soo´s teasing made me laugh so much. He takes things really serious and doesn´t like slackness, but overall he is an sympathetic young Men, who has a heart of gold, but only shows to a small amount of people. Of course his career made him skeptical and warily, and who wouldn´t be, after all he went through.
At the End, Lee Hwan Soo, Maria and the others all had a special place in my Booknerd Heart.
Summary:
A heartwarming Story full of unexpected things and a lot to learn. It felt like the author brought the City and the People right to us and I´ve learned some things about the culture. It´s not just a good Story full of Love, Friendship and also working through the past, it´s Book where you can find yourself in it. All the thoughts about not knowing what Life has to offer and where you see yourself in the future, just hit different while reading. Like it says on the Cover, you fall in Love with the Book, the Places it took you and the atmosphere. Excited for more to come from Samantha Ann. Seoul Searching is an absolute Must-Read for me. Make sure to get your own Copy of it, as long as its available.